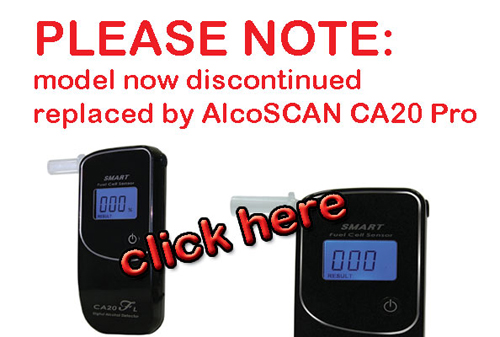 AL7000 WINS TOP MARK
vs
POLICE BREATHALYZER
€125.00 EUR
Free Delivery & Same Day Dispatch
10 Free Mouthpieces (15 Total)

The Pro Drive Plus AL7000 Premium is superb product offered by The Irish Breathalyzer Shop that promises the very best in cutting edge semi- conductor sensor technology and sleek, attractive design.
This is the only model available in the world that features Click In/Out sensor replacement aswell as a highly accurate, clear, easy to read, 3 decimal place LCD display. The very best in build quality and reliability is on offer with the brand new 2013 model. This model is not available from any other Irish Breathalyzer suppliers. We are the only stockists at present.
We only sell the AL7000 Pro Drive Plus Breathalyser Pack which includes a hard plastic compact carry case, soft protective carry pouch, 15 free mouthpieces, hand strap, 2 x AA batteries, easy start instructions. This is the brand new 2015 model (compact case) - only available from us.
When the AL7000 Pro Drive Plus requires calibration, simply click in a pre-calibrated sensor module. The breathalyzer is therefore always available, no down time for calibration. The breathalyzer comes with a precalibrated sensor already fitted and is ready for immediate use. Extra sensors may be purchased separately if required .
Order this month, and receive an extra 10 mouthpieces for free - total 15 mouthpieces with each order.
Employers may wish to consider the employer pack which comes with an additional spare sensor and 50 mouthpieces in total. The spare pre calibrated sensor minimises 'downtime' of your breathalyzer - invaluable in the employee screening arena. Click on AL7000 Employer pack to buy.
High accuracy, sleek, cutting edge design. The AL7000 Pro Drive Plus Breathalyzer is calibrated to Irish standards but is fully usable in any country. Free Upgrade to same day dispatch will be automatically applied at dispatch.
New Users: Hospitals. Universities, Schools, Airline Pilots, Employers, Transport Professional, Individuals requiring High Accuracy

CERTIFIED
Free Delivery & Same Day Dispatch
12 Month Warranty
Registered European Certificate
FDA /ISO Certified
Registered US DOT
FDA Approved/ISO Certified
NHTA (National Highway Traffic Admin) Approval
Suppliers

The Irish Breathalyzer Shop

High Quality Breathalyzer, Breathalyser, Alcohol Testing Advice
12 Mth Breathalyzer, Breathalyser Gurantees
One Of Ireland's Major Breathalyzer, Breathalyser Suppliers
Don't Get Caught Out