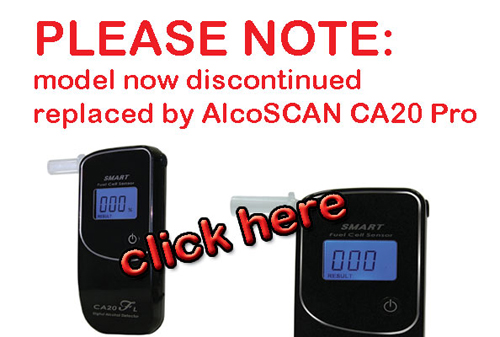 Free Delivery & Same Day Dispatch
10 Extra Mouthpieces Free (15 Total)

The Pro Drive AL6000 Prestige is one of our best quality digital breathalyzer units. It is a highly accurate breathalyzer with a manufacturer's quoted accuracy of +/- 0.01 % at 0.10% BAC (Breath Alcohol Content) -. Accurate !! The only way to achieve better accuracy as the display will show 3 digit decimal places is with the Pro Drive Plus AL7000 or Police Grade fuel cell sensor units.
This unit is also sold in Ireland as 'The Safer Drive' Breathalyzer but is more expensive and does not include 10 extra mouthpieces ! (We supply 15 total, our competitors supply 5 only).
When the AL6000 unit requires calibration, simply click in a pre-calibrated sensor module which includes a new air pathway. The breathalyzer is therefore always available, no down time for calibration. The breathalyzer comes with a precalibrated sensor already fitted and is ready for immediate use. Extra sensors may be purchased separately if required (Shown Below)
Do not confuse this with the older and cheaper style AL6000 Pro model as sold by some competitor websites- The older version does not have the facility to click in a new sensor module.

The AL6000 Prestige offers very high accuracy and sophisticated alcohol sensing technology making it extremely popular with companies and individuals requiring high precision and professional reliability.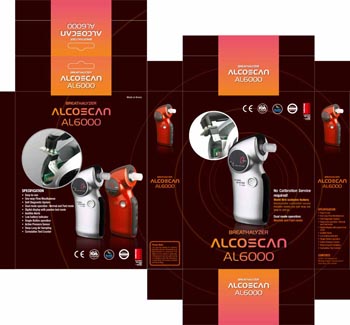 It is supplied with a custom pouch, 2 Free batteries and 5 reusable, fully washable plastic mouthpieces.
Order this month, and receive an extra 10 mouthpieces for free - total 15 mouthpieces with each order.
We now offer 'bundle' packages to include the AL6000 Prestige with extra mouthpieces for employee testing or the AL6000 Prestige with a spare pre calibrated sensor to minimise 'downtime' of your breathalyzer.
Some competitor websites are still selling the old style AL6000 without the ability to replace the sensor. Don't buy old stock !
The AL6000 Prestige Breathalyzer is calibrated to Irish standards but is fully usable in any country.
Current Users:
Law enforcement (non Eire), Universities, Schools, NHS, Military Police Forces Worldwide and Airline Pilots.

CERTIFIED
Free Delivery & Same Day Dispatch
12 Month Warranty
Registered European Certificate
FDA /ISO Certified
Registered US DOT
FDA Approved/ISO Certified
NHTA (National Highway Traffic Admin) Approval
suppliers
Free Delivery & Same Day Dispatch


The Irish Breathalyzer Shop

High Quality Breathalyzer, Breathalyser, Alcohol Testing Advice
12 Mth Breathalyzer, Breathalyser Gurantees
One Of Ireland's Major Breathalyzer, Breathalyser Suppliers
Don't Get Caught Out